Congress' National Flood Insurance Program was implemented in 1968, when insurance companies began removing themselves from the messy game of reimbursing homeowners from damage incurred from flooding. The program has been floating the costs (President Obama recently extended the program until at least May 21, 2012), but the program has seen better days.
As of late, the program is most often criticized for wasting taxpayer money of citizens who are told they live in an area at risk of major flooding and should invest in expensive premiums, but never incur such disasters.
But the tide may be turning for these residents.
Coastal scientists have discovered that rapidly rising sea levels will make flooding — and in turn, the worries of flood insurance — a much more extensive and prevalent problem in several more New York city areas, who previously had no such concern.
"[Rising sea levels] make a significant difference because you don't need to really have that intense of a storm to produce that kind of surge, because a large part of the intensity it already taken into consideration because of the higher water level," says Vivien Gornitz, a researcher for NASA's Goddard Institute for Space Studies, and a member of the team sanctioned by Mayor Bloomberg in 2009 to analyze climate change concerns in New York City.
Gornitz points out that over the past 200 years sea levels have risen at a "leisurely rate of two to three millimeters a year." Before then, it was approximated to rise only one millimeter a year. But in the mid-19th century, sea levels started increasing at a faster rate, and in future years the growth rate will accelerate even more dramatically.
Gornitz, and New York City's Panel on Climate Change, published reports projecting that changing temperatures could raise sea levels as much as 23 inches by 2080. Sea levels have already risen three inches since 1983, according to PlaNYC 2030, a committee established by Mayor Bloomberg in 2007, which states on its' website that combatting climate change as one of its initiatives.
Different climate models show different statistics of water change. Taking into consideration the ever present concern of "rapid ice melt" and de-glaciation, these studies predict 41 to 55 inches of sea level increase in just 60 years, the panel's report stated.
Gornitz explains that sea level rising is a product of two simultaneously occurring catalysts — one atmospheric and another geologic. Increased heating of the Earth's surface, or greenhouse warming, transfers more heat to the ocean, in turn expanding the water and raising sea levels.
In the past, thermal expansion accounted for at least 50 percent of the reasoning for rising sea levels, but since the 1960s, ice melt and land subsidence has become the dominant influence, Gornitz says.
Land subsidence happens when the earth's crust shifts in an effort to remove remnants of ice sheets from the Ice Age 10,000 years ago, Gornitz says. As the earth's crust rebounds and readjusts to accommodate the impacts, certain landmasses are pushed further down and others rise — explaining the phenomenon of certain beach areas suddenly turning high and dry.
New York City, though, falls under the category of a quickly submerging crust, and the "sinking" of the city pushes more boroughs deeper into water.
When taking into factor that only 25 to 30 percent of flood prove structures even have flood insurance — according to William Nechamen, of the chief floodplain management section in the New York State Department of Environmental Conservation — financial repercussions to the city could be dramatic in the near future. The Department of Environmental Conservation acts as the coordinator for the National Flood Insurance Program in New York.
"Billions of dollars in private and public real estate and infrastructure in NYC are at risk from flooding," says Nechamen. "The city is aware of this and is trying to plan for it. However, a major coastal storm would likely overwhelm the city's financial capacity."
As of February 2012, the City had 39,086 National Flood Insurance Program's policies amounting to $8.94 billion in coverage, according to FEMA.
Click through gallery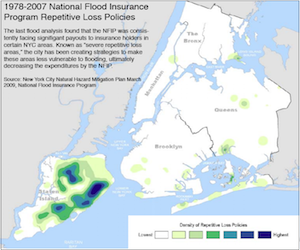 New York City has also been listed as the fourth highest city in the United States with unmitigated property damage from flooding. This means that several areas and properties in the city are repeatedly and significantly harmed from flooding, and have yet to see updates to their infrastructure, ultimately meaning the National Flood Insurance Program continues to shell out money to property owners for the damages.
New York City has recorded 2, 322 repetitive loss policies amounting to $33.6 million in payouts, according to the National Flood Insurance Program.
Flooding in New York City is nothing new — the National Climatic Data Center of National Oceanic and Atmospheric Administration says New York City has experienced flooding 60 times in a 15-year period between 1993 and 2007. They analyze that in the future this could mean up to four floods a year.
Currently, a 1-in-100-year flood can cause approximately 8.6-foot surges for much of New York City, the climate risk assessment said. Gornitz's research team found that with sea-level rising the reoccurrence of a 100-year-flood by 2020 can be as often as once every 65 to 80 years causing 9-foot surges. By 2080, the reoccurrence of a 100-year flood could be as often as once every 15 to 35 years causing 9.6 to 10.5 seawater walls.
According to the Natural Hazard Risk Assessment, already within a 30-year-period (typical mortgage), the 1-percent annual chance flood (also known as a 100-year flood) has a 26 percent chance of occurring. This figure has yet to consider the rising sea levels impacting the coastal line.
In 2008, it was found that 13, 341 buildings are at risk to damage from a 100-year flood. More than half of these buildings are not predicted to have damage.
With elevated sea levels, flooding in the future on the levels of Hurricane Irene and Hurricane Andrew — costing the state $7 billion and $6 billion, respectively — could become common practice.
The Federal Emergency Management Agency (FEMA) is responsible for designating the proper flooding zones and in turn creating infrastructure and insurance policies to back the apparent dangers. But FEMA's floodplain maps, which tell homeowners and citizens that they are at risk areas for flooding are not as consistently updated as the studies on climate change.
The floodplain maps, originally created in the 1980s, were only last tweaked in 2007. This year government agencies are undergoing revamping and re-evaluating of the floodplain maps, as well as conducting a new study of all tidal waters, Nechamen says.
The current Flood Insurance Rate maps do not currently take into consideration areas which are at risk because of hurricane storm surges. These storm surge areas are much larger than FEMA's current denoted floodplains and already widen the necessity of homeowner insurance throughout New York City.
But FEMA's overhaul of their floodplain maps may not see changes as drastic as coastal scientists would advise.
Nechamen says that the National Flood Insurance Program "only considers past gage evaluations when developing flood maps." They do not apply significant weight to climate change studies, such as the one done by Gorntiz's team, he said, because of their uncertainty.
"We know that [sea levels] are going up but by how much?" he said.
Nechamen adds that New York City is updating building code to reflect state codes on infrastructure elevation — the lowest floor must now be 2 feet above the flood elevation for residences.
Lesley Patrick, program manager at CUNY's Institute for Sustainable Cities, and one of the researchers who contributed data to the climate change panel, says government agencies can't be completely at fault for not being overly cautious in their overhaul of infrastructure for flood preparation, since so much is tied to budgetary constraints.
Constraints, which Patrick says, can't be destructed based on somewhat error-prone data like climate change.
Gornitz though says that the government agencies and homeowners alike should definitely start thinking of future concerns.
"People don't have that sense of urgency when the consequences aren't going to happen for a while," she says. "People involved with infrastructure — roads, highways, bridges and buildings — that will last 50 or 100 years, they have to be concerned about the future.
"They should be less concerned about absolute numbers because those are indeed subject to change. Gornitz says. "So the numbers won't be exact or concrete, but we have to plan for it. There will be more frequent flooding and higher sea levels."